European fundings: DevCamp Call4 - Call For Mobility 2012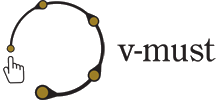 V-MOVE is an international training programme for heritage professionals and researchers in the field of virtual museums, aiming to enhance the skills and knowledge of digital visualisation and communication technologies, focused on virtual museums.
The V-MOVE innovative and experimental training integrates multi-disciplinary research across social, historical, humanistic and technological sciences. Interested applicants could apply for one mobility program and prepare a specific programme of work, together with the tutor of the hosting institutions
.